$250,000 in Grants to Benefit Alberta's Food Sector
This program aims to stimulate economic growth and recovery in the province of Alberta
As your trusted funding advisor, our team of Grant experts continuously monitors all provincial and federal funding announcements to ensure we bring you the latest news in grants.
We would like to highlight the Canadian Agricultural Partnership (CAP) Alberta Program which has recently re-opened and is only accepting applications until July 12,2021. This grant will cover up to 50% of your project costs up to a maximum of $250,000 in funding per fiscal year.
The key area of focus for this grant is to fund investments in Alberta's agriculture and food processing sectors by supporting farmers and agri-food processors grow their businesses and adopt innovative  advancements on their farms and throughout the entire food supply chain. For example, facilities that have been modified or upgraded (i.e. processing capacity expansions, food safety improvements, new product/process developments, market development and access) may be eligible for funding from this lucrative program.
The best thing about this program is that it is retroactive – meaning you can recoup costs already incurred as far back as January 1, 2021 – but like most grants, allocation of funds is on a merit basis and a strong application must be put forth to ensure the greatest chances of approval.  This program has a stream for Producers  and a stream for Processors.
---
Program Overview (Producers & Processors):
For both Program streams, funding is the following:
Eligible capital expenses will be cost shared at 25% grant and 75% applicant.
Eligible non-capital expenses will be cost shared at 50% grant and 50% applicant, capped at a maximum of $50,000.
The maximum total grant funding an applicant can receive from the Program is $250,000 per fiscal year.
The program supports projects that: Create jobs in Alberta, support growth of the business by increasing sales, support investments (project investments relative to grant request), pursue new markets or expand market opportunities (including removal of barriers to growth and market entry), develop new products and/or processes and introduce new products to market.
Eligible Activities include: Processing capacity expansion, food safety improvement,  new product and process development; and market development and access.
Applicant Criteria: 
Producers: Producers adding value past primary production are eligible.
Producers: Must have a minimum of $25,000 in annual commercial production revenue.
Food Processors:  Processors and bio-industrial processors must have a minimum of $100,000 in global gross annual sales.
Must be an Alberta registered entity operating in Alberta.
Processors: Active in the business of changing an agricultural product into a value-added product (Value-added product means an agricultural product that is changed, manipulated or enhanced through physical, chemical, or thermal means, and includes packaging of the enhanced agricultural product.)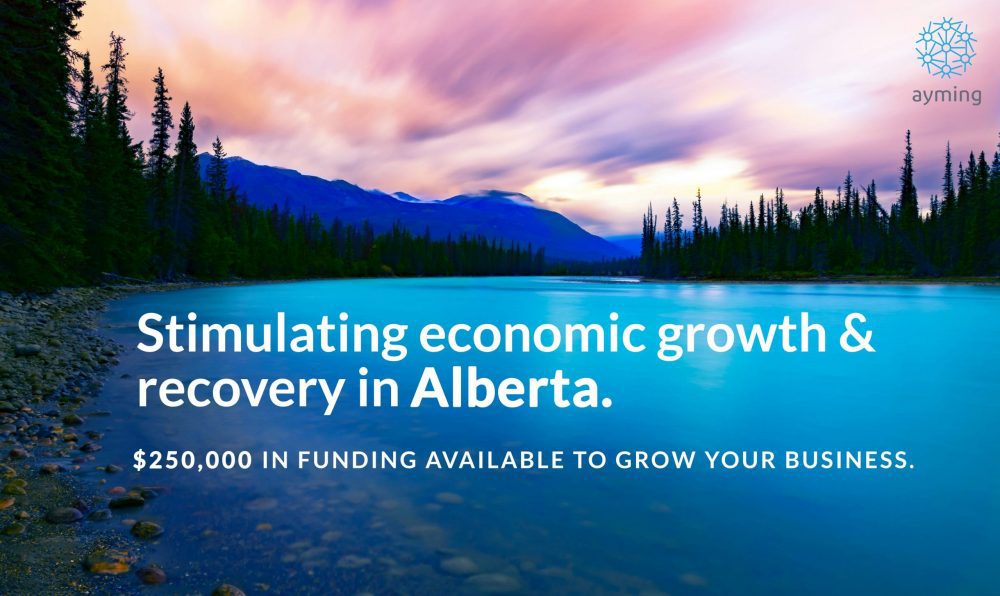 ---
Why Ayming?
Our team of experts will take the time to understand your current and future planned projects. We will then align these initiatives to the program in order to provide you with the highest ROI and the highest chance of approval.
We have extensive experience working with Canadian agri-food / dairy/ meat/ cheese/ grain processors and producers and have the expertise to properly position and maximize your application to secure your business funding.
We are the first Canadian company to establish a national grants practice.
Our proprietary artificial intelligence (AI) driven database of grants provides live access to thousands of programs, including a custom snapshot of all federal and provincial grants currently available to each company specifically.
Our highly experienced delivery teams boast over 50 + years of combined grants experience and over 200+ years of combined SR&ED experience, meaning you partner with true subject matter experts who are invested in your success.
No risk success-fee remuneration.
Don't wait! The intake is closing on July 12th, 2021 and applications need to be submitted as soon as possible. Contact us today to get started!
Contact us today!
One of our experts will be in touch shortly.